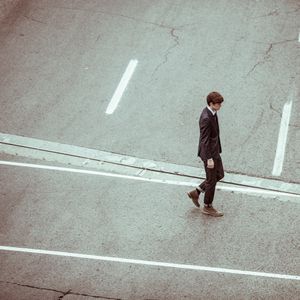 This song seems to be a favorite among those who have purchased the album.  I think it's because it comes out of one of those desperate places that everyone at some point in their lives has felt:  the place of being forgotten. 
Just writing about it gives me a pit in my stomach.  Being forgotten causes a knee-jerk reaction, doesn't it? 
I was never the sporty-type in school.  I tried to pretend that I could hang with the athletic people, and even managed to make it through one excruciatingly awkward year as a cheerleader, but I think people saw right through me.  I was always one of the last ones picked when we had to divide into teams for gym class.  I felt forgotten. Unwanted.   
I grew through that time and came into my own when I gave myself up to my passion for music, and I guess I assumed my gift would always make room for me as the Proverb says.   
"A man's gift makes room for him and brings him before great men." - Proverbs 18:16 
Unfortunately, that's not always how it went.  It's hard to understand why people in your own profession (church-going people, gasp!) would act jealous or afraid of your gifts, but that's exactly what many people have done to me in the ministry.   
In one such instance, I was constantly being passed over for songs and positions I knew I could do, and do with excellence.  I once again felt forgotten.  Passed over.   
I came home from this ministry one evening, just so disgusted that I wasn't getting any opportunities to do anything with my music.  I poured my heart out to God and concluded my prayer with, "Thank You God, that even though people may have forgotten me, You haven't." 
That phrase became my constant comfort as I walked through that difficult season: "You have not forgotten me."  It wasn't too long before the song came pouring out of my soul. Even the music and melody reflects the yearning for the Creator of the Universe to comfort me when I'm feeling abandoned by everyone else. 
As I began to pen the verses, I thought about broadening the theme of feeling forgotten. Don't we all feel forgotten at times when our carefully constructed worlds come crashing down around our feet?  What about when our spouse or child gets a grim diagnosis from the doctor?  Do you sometimes question if God turned His back at the exact moment your hopes and dreams collapsed? 
"You Have Not Forgotten Me" is a song that speaks to us in the dark seasons.  All of the lights may be off around us, but if we can only grope around and find the Father's hand.  He can see, even when we are blinded in the face of difficulty. 
"You have not forgotten me, 
You know all my fears, hold all my dreams 
How You love me! 
You know when I sleep and when I rise, 
I am a treasure in Your eyes, 
And even when I feel alone, deep down I know 
You have not forgotten me." 
I don't intend to preach to you with this post, but I do believe you need to know that you are not forgotten!  Even if nobody else knows the depth of what you are facing, God does and He is right there with you.  The psalmist said it so beautifully:  
"Where can I go from Your Spirit? Or where can I flee from Your presence? If I ascend into heaven, You are there; if I make my bed in hell, behold, You are there.  If I take the wings of the morning, and dwell in the uttermost part of the sea, even there Your hand shall lead me, and Your right hand shall hold me.  If I say, 'Surely the darkness shall fall on me,' even the night shall be light about me; Indeed the darkness shall not hide from You, but the night shines as the day; the darkness and the light are both alike to You."  - Psalm 139: 7-12 
Friend, you are not forgotten!  God is right next to you.  And because He is omnipresent, He is still on the throne, working all things together for your good.