Hi there! Welcome to my music home on the web! 
Maybe you've been around this space since its launch in 2016, or maybe you're a newcomer to me and my music. Either way, I thank you for stopping by and I hope before you click over to some other site you leave just a little encouraged by something you hear or read here. That's my goal with my music and writing: to give hope to whatever audience God entrusts me with. 
As I sit here writing this post, I'm shaking my head that it's already the second quarter of the year. How did April get here so fast? 2019 has been a weird, but wonderful year for me so far. Here's just a sampling of stuff that's happened: 
I was invited to perform at a songwriting conference in Nashville. It was an amazing experience! 
I wrote a proposal for a new piano class at the high school where I teach and it was accepted for the upcoming school year. So many students signed up, we're having to split the class into two!
I finally, finally wrote a new song and I'm very proud of it. (Hope to share soon!) 
I registered my oldest child for kindergarten in the fall. Cue the tears. I'm not ready… 
I played piano for the funeral of my friend's baby boy of only 4 months. 
I directed a well-known musical at my school and it went better than I anticipated. 
There have been many more ups and downs throughout the first 4 months of the year, but I won't drone on with details. Honestly, I feel like I've done a lot of pivoting in 2019. Meaning, the direction I thought I was headed at the beginning of the year has ended up not being the direction I've gone at all. So I pivot, take a few more steps, look around, and adjust my course as I go.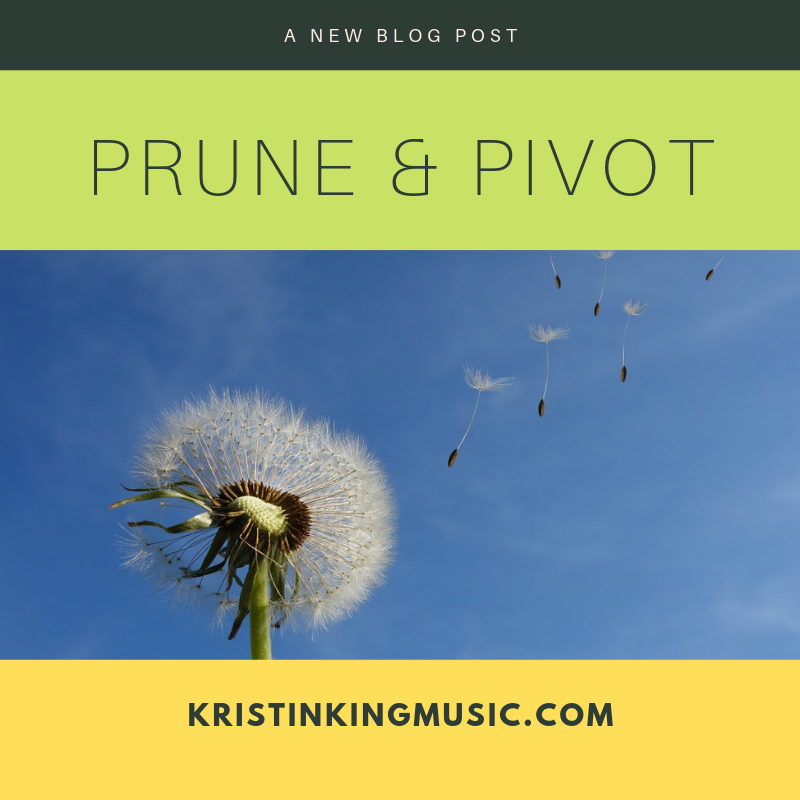 It's been a little confusing. I feel a bit blinded about my path at the moment. That doesn't mean that my purpose has changed. I still feel called to create music and to write to the glory of God. It's just that I'm considering the most effective vehicle for my message. And I'm also considering what I need to remove because it is no longer serving me in my life. 
The purpose of this post is to encourage you if you should also find yourself needing to change directions in your life. I think it's important for you to know that you don't need permission to make a course correction. If you're involved in something in your life, be it a hobby, a business, a relationship, even a ministry (gasp, yeah, I went there!), and it's just not working, it's okay to go a different direction. It's okay, and even healthy to learn to pivot. 
However, the first step before pivoting into bigger and better things is admitting that you need to cut some things in your life in the first place. I'm so tired of the lie that we humans can "do it all". That's just not true unless you want to burn yourself out really quickly. And then you really won't be doing it all because you'll be doing none of it. 
Cutting the dead weight is even a Biblical concept. Don't believe me? Check this out: 
"He cuts off every branch of mine that doesn't produce fruit, and he prunes the branches that do bear fruit so they will produce even more." -John 15:2 
What do you need to prune in your life in order to pivot? Spring is here, which is the perfect time to consider what needs to be cut out of your life in order to help you move forward in the direction of God's plan for you. 
If it's not too personal, feel free to share how you're pivoting in this season and what you're cutting from your life to make room for a new direction. I'll be doing the same in my own life.
Blessings, 
Kristin