"Unless the Lord builds the house, the builders labor in vain.  Unless the Lord watches over the city, the guards stand watch in vain." -Psalm 127:1
Lately, I've been getting into the whole Bible journaling trend that you've probably seen all over the Internet.  I had originally purchased a journaling Bible for the purpose of writing in it only, and then I started seeing other people's amazing artwork throughout their Bibles and decided I wanted to try it out.  My entries are nothing spectacular, but they hold a lot of meaning to me.  I've already begun to see answered prayer as I've documented bits and pieces of my life in my Bible.
As we were gearing up for this move to Kentucky, I stumbled upon this great verse in Psalm (see above).  I had read the verse before, but it took on new meaning when we were in the process of purchasing our home.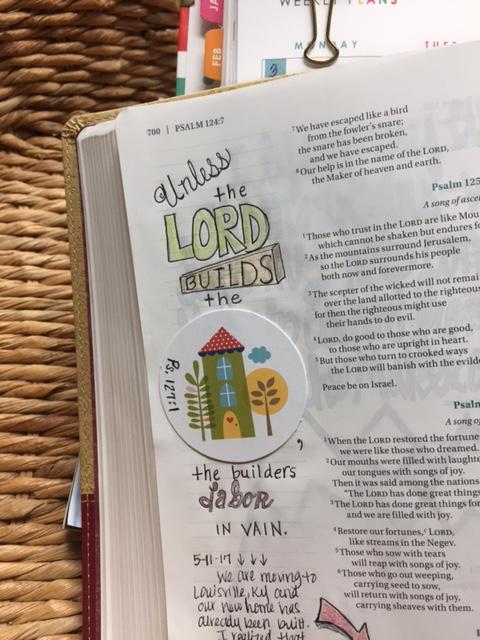 Our home was built earlier this year as a "spec home", meaning the home builder company built it to showcase a new model they had designed.  So, it's never been considered a model home, but still has a ton of amazing upgrades you would find in a model.  When we found it and walked through it the first time, I felt like it was ours.  After reading and meditating on Psalm 127:1, I firmly believe that when our new home was under construction earlier this year, God had our name on it all along.  Yes, the "builders" put it together, but it was really God who built our home with us in mind!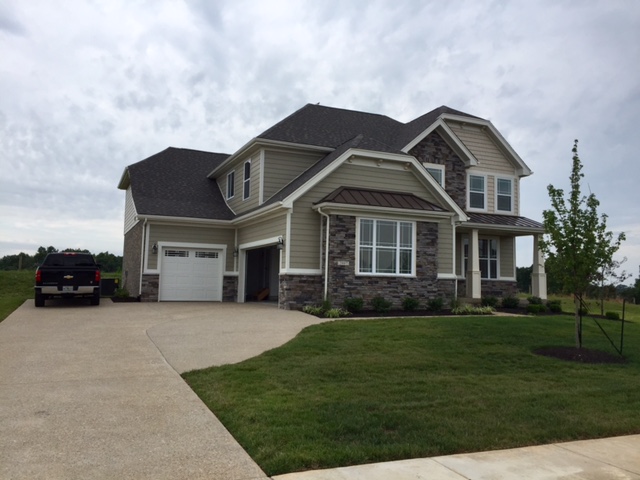 We are officially living in KY, but not yet living in our new home.  My parents have been gracious enough to let us stay with them while we're adding our own touches to the home.  Though I know this move was Divinely orchestrated, it's not been without its challenges.  Ya'll (I'm practicing my KY vernacular), this journey has been downright hard!!
I had to say goodbye to the most amazing church and a music ministry that I absolutely loved serving in (back in FL)
Before making the 15+ hour drive with my car, my dad, and my dog, I flew my son to KY to get him settled in with his grandma ahead of time.  We had a layover in Atlanta, which turned into an all-day affair, and I was absolutely exhausted, emotional, and ready to turn around and head back to FL and call the whole thing off (blame it on the pregnancy hormones). I may or may not have cried at the airport
During the drive to KY, my husband and I found out that there were some unexpected issues and we may not get to close on our new home on the 30th (we did though!)
Once we did arrive in KY, I started to feel a little under the weather.  It has turned into a full-fledged head cold with one of the worst hacking coughs I've ever had.  I have to sleep on the couch every night to avoid waking everyone in the household.  I finally broke down and had my husband get some medicine, approved by a pharmacist for being safe during pregnancy.  Since I've been here, I've been sick every day.  Oh, and did I mention the temperature has been in the 90's?  Pregnant, sick, and hot very much describes this gal right now.  Today, I'm headed to an immediate care to get on antibiotics because I'm just not getting better on my own.
Of course, I realize that no journey is without its valleys and mountaintops.  You have to take the bad with the good in any circumstance.  When I walk the rooms of our new house, I know that this was God's plan, despite the rough parts.  
One of my favorite worship songs right now has some great lyrics that seem very appropriate in this season of my life: 
"I will build my life upon Your love, it is a firm foundation."
My challenge to you today is to allow God to build your house, whatever that "house" is.  It may not be a physical dwelling.  Maybe it's a relationship or a new job opportunity.  Built upon God, you can know for sure that your labors are never in vain because He is always a firm foundation!
Blessings,
Kristin
---
Ps. Would you do me a HUGE favor?  If you haven't already signed up for email updates, I would love to have you sign up here.  You become a VIP of Kristin King Music (first to get updates, new product offerings, special discounts, etc.) and I'll send you a FREE song download!