Wow, what a
Year
 2017 is turning out to be!
I knew 2017 would be different, but God has been totally blowing my expectations out of the water.  At the beginning of each year, I always come up with a theme word to frame my year.  For 2017, my word is "Harvest".  There are many things I've been believing God to do, and
I truly believe that this is the year that the seeds I've sown will bring forth my harvest
.  Hey, there might even be a song in that somewhere!  I'll have to explore this!
I recently stumbled upon a verse that I've read so often, but it's become a guiding principle in my life, especially these past couple of months.
"Many are the plans in a person's heart, but it is the Lord's purpose that prevails."
-Proverbs 19:21
You know, just reading that now, I realized there are a lot of "P" words in that verse!  
Plans
Person's
Purpose
Prevails
(Proverbs)
This verse is so true of my life.  I am definitely a planner.  In fact, I'm a part of this fabulous group of young ladies that meet once a month to discuss and plan out goals for ourselves.  Nothing gets me more excited than to write a goal down on paper and mark it complete at the end of the month.  
I love setting goals; I love achieving goals.
And yet, at the beginning of February, I found myself having a really hard time gathering up the resolve to work on my goals.  Things in my life were going sideways.  Not at all like I pictured my life at this point!  Dreams that I'd had for years were practically drying up before my eyes.
Speaking of my eyes, I had one really exciting thing to look forward to!  After nearly 20 years of bad vision, along with the never-ending expense of glasses and contacts, I decided to have LASIK surgery.  I had been diligently saving and was ready to write a check for the procedure, which was scheduled at the end of February. I couldn't wait!
"Many are the plans in a person's heart, but it is the Lord's purpose that prevails."
-Proverbs 19:21
I had a plan: getting my LASIK.  
But God had a different purpose
.  
February 15th, we found out we were expecting our second child.  As I called and canceled my vision surgery (they will not perform it on pregnant women; trust me, I asked!),
I watched my plan die and be replaced with God's purpose for THIS season
.  It was a bittersweet moment.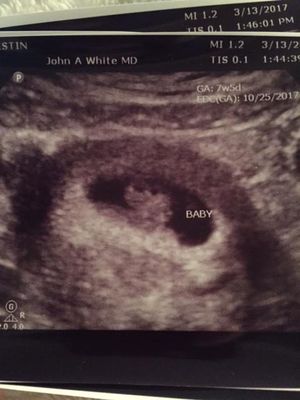 As I've become used to being pregnant again, I've struggled with many things.  First, this pregnancy has been so different from my first one because I've been sick off and on since I found out.  Simple things that most anyone can do with ease, I've struggled to muster up the slightest bit of energy to complete.  The first time I sang in church after learning I was pregnant, I wore myself out to the point where I took three naps the rest of the day and woke up sobbing from a debilitating headache.
Those of you who follow my artist page on Facebook know I've started doing "Wednesday in the Word" sessions.  After I found out I was pregnant, I had the hardest time getting my face washed and make-up on, much less completing the "Wednesday in the Word", something I love doing.  
So, during this season of unexpected blessing,
I am extending myself grace
.  Grace to rest when I need it.  Grace to cry when I'm feeling emotional and overwhelmed.  Because
I know that's what my Heavenly Father is all about: giving grace when we need it the most
.
A couple of weeks ago, I penned a new song that I can't wait to share with you all!  For now, I wanted to leave you with the last chorus of the song, because it describes my life so perfectly right now.  I bet you can relate too.
"When there's a detour
And I can't seem to find my way,
I close my eyes and
Thank You as I lift my hands in praise.
You never left me
And You won't fail me now.
You guide me, Jesus, 
Right here, through the detour."
Friends, when God has other plans, trust that He knows what He's doing.  Trust that He's right there beside you as you navigate the detour together!
Blessings, 
Kristin
---
I would love to give you a FREE music download of one of my songs!  Get it here.