This is a challenging post for me to write-- in a  good way. It is the first time I can think of where I'm sharing my business goals publicly for all the world to see. It reminds me of that common dream of being on a stage and realizing you're naked in front of the audience. Come on, I know you've had that dream too! Don't even deny it.  
After looking back over 2017 and realizing how much I'd missed the mark on some of my goals, I decided 2018 has to be different. My life and family need these goals to work. And that means I need extra accountability to ensure I don't give up halfway through.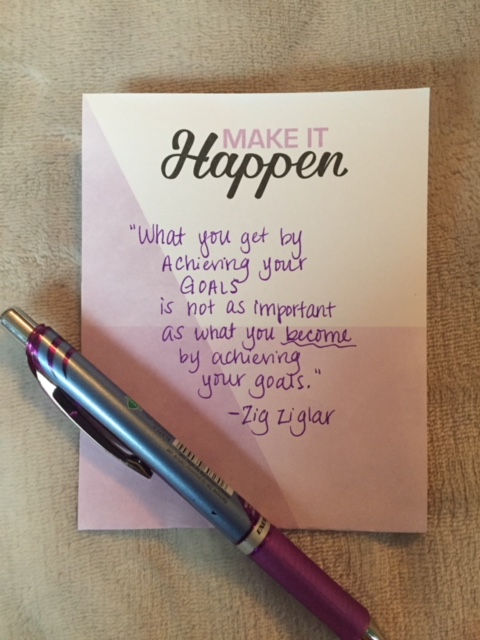 So, here are my 2018 goals for Kristin King Music and my other creative outlets: 
I will write 12 new songs this year- one song per month, with the ultimate goal of some of these songs making it on a new music project.  
I will write and release two new books in 2018- one fiction and one nonfiction. One of my long term goals has been to release a new book every year of my 30's. I missed that goal in 2017, so I'm planning to make up for it this year. And yes, this is a realistic goal for me because I always end up getting into a great workflow once I get started on a new writing project and have no problem working on it 5+ days per week. 
I will release my new vocal warmups project as a digital product and market it to local churches and schools. This project is currently a huge focus for me during the month of January!  
I will earn an average of $xxxx per month to show that my business is profitable. While I'm not sharing the specific number, just know that the amount I've chosen is realistic for my business to make and will help me run my business, manage expenses, and provide for my family as well.  
Now that I've shared these goals with you, the next level in staying accountable is to give you updates from time to time on how each goal is coming along. 
I recently listened to a podcast where a man talked about goal setting in a way I hadn't thought of before. He said that instead of "setting goals", he makes promises to himself. That caught my attention because it sounds a lot more intense than just a plain 'ole goal.  
So, I am making a promise to myself that I will focus on these few projects over the course of this year and allow God to do with them what He desires. After all, it's all for His glory anyway!  
Have any goals you'd like to share? Leave a comment below!
---
Keep up with my musical journey and snag your FREE song download today!