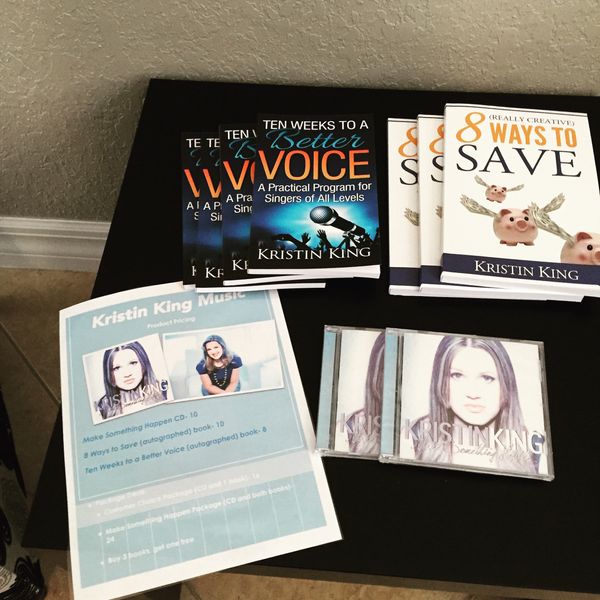 Hi there!  If you haven't known much about me or if you just stumbled upon my website on accident (please stay!), you probably only know that I'm some chick who likes to sing and write.  And while that would be totally true, people who get to know me are often surprised to know that I've released several products that I'm really excited about.  So, I wanted to write a post detailing those offerings so that the person who doesn't know that much about me can get a snapshot at the products and services I offer.
Recently, I came up with my core purpose for my company as well as my life: I want to strive to be a blessing to someone every day.
 Whether that's a face to face experience or it comes through interaction with one of my products, that is what I'm trying to keep in focus at all times.  I want to be a blessing.  If you need a blessing today in one of the following areas, read on.
If you need encouragement in your faith walk:
Check out my 5 song EP, 
Make Something Happen
.  You can listen to clips of each of the songs right on my website (just go to the "Store" tab), and you can buy them from the same page or head over to your favorite digital music service (iTunes, GooglePlay, etc.).  You can also read about the stories behind the songs under the "Blogs" tab and select the "Make Something Happen!" blog.  My favorite pick-me-up songs from the album are "I Am the Lord's" and "You Have Not Forgotten Me".  I hope you like them too!
If you want to be a better singer:
Have a peek at my book
Ten Weeks to a Better Voice
, sold exclusively on Amazon.  Available in both eBook and paperback, this resource has received rave reviews, including one from a Top 50 Amazon Reviewer!  If you want to discover how you can hone your singing voice into what you've always dreamed it could be, you need to read this book.  It also makes a great gift for singers on your music team!  I offer a bulk discount for orders of 10 or more copies.  If you are interested in that, email me at kristinlkingmusic@gmail.com.
This link takes you to the book.
If you want to improve your finances through better saving skills:
You need to read my book
8 (Really Creative) Ways to Save,
sold exclusively on Amazon.  I guarantee that you will pick up at least one new savings tip that will more than pay for the cost of the book.  It is also available in eBook and paperback for your convenience.  I wrote this book after I gave birth to my son and felt the need to challenge myself to come up with creative ways to save for my dreams and goals (the above EP is one of them).  If you like Dave Ramsey and his financial principles, you will enjoy this book!  
This link takes you to the book.
If you have a worship ministry need:
One of the areas I've really focused on this year has been helping church worship ministries around the US with their music.  Of course, I'll always welcome the opportunity to come and perform songs from
Make Something Happen
, but where I'm really seeing a need is in the area of worship.  
What happens when your music minister needs to be out on a Sunday and you have no one to fill in?
 This is one of the things I love to do!  I am passionate about worship and pouring into the faithful volunteers in your ministry.  I work with churches on an individual basis so I can tailor a budget and worship experience to fit your needs.  Maybe you don't need a fill-in music minister but want to boost the morale of your team.  I offer a variety of workshops and consultations that are guaranteed to spur your team to excellence in music ministry.  If you are interested in this service, simply email me today at kristinlkingmusic@gmail.com and request your free brochure on booking Kristin King Music at your event or service.  I book dates on a first come, first served basis. I love to travel and can't wait to work with you!
I hope this post gives you a better idea of what I'm all about.  Yes, I'm passionate about music and writing.  But I'm also passionate about being a blessing to you!  
How can I do that today?
Ps. I have more exciting products on the way!  If you would like to be "in the know" on all the latest news, sign up for my email list by
clicking this link
.