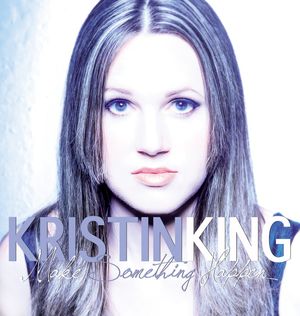 Three little words.  One song.  Responsible for revolutionizing my life and the way I think about it. 
I promise I'm not over-dramatizing it for a good read (well, maybe just a smidgen).  I truly believe that "Make Something Happen" was divinely dropped into my spirit for such a time as this. 
We live in a world of victims.  Every little thing is made into something big.  Think about it:  how many articles have you seen spouting negativity about some politician, some celebrity, or some family?  We are a culture that thrives on whining and taking little to no responsibility for our lives.  Just letting ourselves be tossed about so we can play the victim card. 
It's time to WAKE UP, people!  God has called us to so much more than being victims and taking no responsibility to better our lives. 
"The thief does not come but to steal, and to kill, and to destroy.  I have come that they may have life, and that they may have it more abundantly." - John 10:10 
This was the verse I found myself reflecting on a year ago.  I wanted to experience the abundant life that Jesus talked about in this passage. My life, my music, my sense of adventure had all grown kind of...stale.  I longed for more and knew it was out there somewhere. 
But I wasn't really taking responsibility for my life.  In truth, I was playing the victim because of my location and bemoaning the fact that my dreams weren't coming true on my timetable. 
And then I started telling myself to make something happen.  I realized that as nice as it would be, no one was going to show up at my door and say, "Hey, Kristin, that music dream you've got there, how can I make it come true?"  No, that was actually my job, and I had been shirking the responsibility for a while. 
Finally on January 3rd, I got a revelation and started playing the lead role in my life.  I know it was that date because I wrote it down.  And sometime in between that day and January 18th, I woke up one morning at 5:30am singing the words to "Make Something Happen". 
"Make something happen, 
Dare to live your wildest dream. 
Make something happen, 
Take a little leap of faith. 
You never know what's on the other side 
Until you try. 
Make something happen." 
 
I remember being irritated that I was inspired right out of a dead sleep, especially since I had to get up for work in just a little while.  Still, I grabbed my phone and slowly trudged to the bathroom, closing the door so I wouldn't wake my 16 month old son. 
In a sleepy voice, I recorded the crude beginnings of the song and then got back in bed. 
In the days to come, I wrote verses to the song and started imagining a music project built from it. 
As you know by now, Make Something Happen, the project, has been released and I couldn't be happier.  I stuck the theme song in the middle as a sort of an anchor for the rest of the songs.  
Any time I am feeling discouraged or even lazy, I listen to this song.  And then I go and do exactly what it says: I make something happen.  Even if that something is little, it's still something and it counts.  
This song has taught me that I am responsible for turning my life into what I want it to be.  And no, I'm not belittling help from God because sometimes only a divine touch from heaven can right our situation.  But God revealed to me a long time ago that I need to do all I can first, and then allow Him to step in and complete it. 
Is there anything in your life that you've been playing the victim card about?  Ask yourself if it truly feels good to whine about what you're unhappy with in your life. 
Then I hope you'll download the song "Make Something Happen" and listen to it.  Then the next thing to do is take a small action on something.  Now think about how you feel.  Action always makes you feel much more empowered than inaction. 
Just remember, if fear tries to rear its ugly head when you're making something happen, you know you're on the right path! 
"Fear will always try to tell you you're not good enough, smart enough, or strong enough, 
But sometimes you have to do the thing that scares you the most, 
So you can truly fly." - from "Make Something Happen"